Event Date: Jan. 1st 1970
How to get around Inis Mór (Inishmore)
Getting Around on Inis Mór (Inishmore)
Inis Mór is the largest of the Aran Islands with a total area of around 12 square miles. With daily sailings, visitors travel to the island for its unique landscape and breath-taking scenery and to explore ancient forts and monuments.
The island is too small to facilitate any more cars. In fact, there is little need for a car when you get there. A day trip or overnight stay on the islands is the perfect car-free holiday!
There are a few ways to get around Inis Mór once you've disembarked our ferry:
Walk, Jog, Hike, or Stroll
Inis Mór is very accessible for all levels of walkers. The roads are mostly flat with no steep incline to climb (until you reach the fort, at least!) With such little traffic troubling you along the way, walking is a safe and easy way to traverse the island at your own pace. Perfect for push chairs too. Pubs, restaurants and shops are all within easy walking distance in Kilronan.
If you like a hike, strap on your hiking boots and go off-road. There is much to see on Inis Mór and many winding karst and limestone laneways to explore. Walk the island, feel the sea breeze on your skin, and build up an appetite while greeting locals at ground level.
Inis Mór is also a dog walkers favourite. If you want to bring your furry friend onboard our ferry, just make sure it's kept on a lead on the outside deck.
Hire Some Tyres
A great way to explore the winding roads of Inis Mór is by bicycle. Why not rent a bike for the day? Aran Islands Bike Hire is based on the pier, providing bicycle hire to guests for over 40 years.
There is a wide range of bikes available to suit you and your family. Choose from a city bike complete with basket to hold your picnic, rent bikes for the children, or pull the littlest ones behind you in a special bike buggy. Pick up a complimentary self-guided map that highlights the sights and outlines the best cycle route to see the sights. Dún Aonghasa, the most westerly point of the island, is a leisurely 30-minute bike ride away.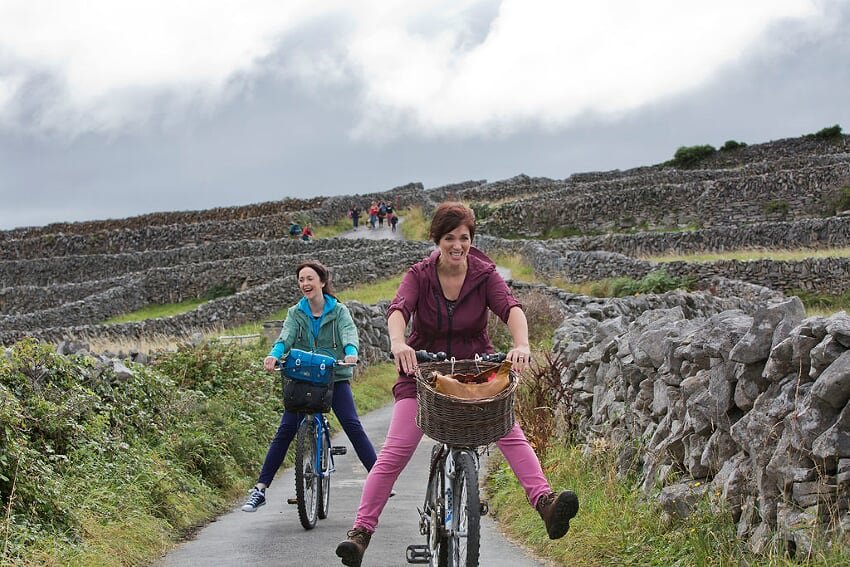 Fancy letting someone else do the work for once? You can even enjoy the island on a tandem. See the bright beaches, blue seas, and famous walled fields without even breaking a sweat. Now that's a holiday!
Book a Bus Tour
They say the best way to really get to know a new place is with a local guide. If you wish to see the sites of Inis Mór while learning about life on the island from an insider, a private bus tour might be for you. Hear a unique perspective and have all your questions about the islands answered by a knowledgeable local. The driver can also drop and pick up at Dún Aonghasa, allowing you to climb the ancient fort, enjoy the panoramic views, and have a bite to eat in the famous café Teach Nan Phaidis. Aran Off Road Experience is another wonderful way to explore the island. Navigate the narrow roads that the minibus can't access in a Land Rover Defender and learn about the culture and traditions of the local people from native islanders.
Several operators are available to take you on an island tour in a comfortable bus. Tours operate from Kilronan pier, where passengers disembark from the ferry. Once onboard, sit back, relax, and enjoy the scenery while you're listening to tales of Inis Mór from ancient history right up to modern-day life. Pont and Trap tours are also available from Thomas Faherty Tours.
Whichever way you choose to see the sights, on foot or on wheels, the island has you covered. Leave your car on the mainland and stretch your legs, pound the pedals, or let someone else do the driving for a change. A car-free holiday is sustainable, restful, and affordable. Relax and get away from it all on Inis Mór, sailing year-round from Rossaveel, Connemara with the option of a daily shuttle bus from galway City to thee ferry terminal, and seasonally from Galway City (March - September).