27th Jul 2023
Family-Friendly Things To Do on Inis Mór
Family-Friendly Things To Do on Inis Mór
Inis Mór is a great spot for all the family. Idyllic and peaceful, families enjoy the nice change of pace allowing parents to relax and little ones to play. Our passengers are drawn to Inis Mór during school holidays, and with its welcoming locals, love of the Irish language, and buzzing pubs and eateries, it's easy to see why.
We're here to help you and your family start planning your trip with an insider's knowledge on the various events and tourist attractions you should check out during your visit.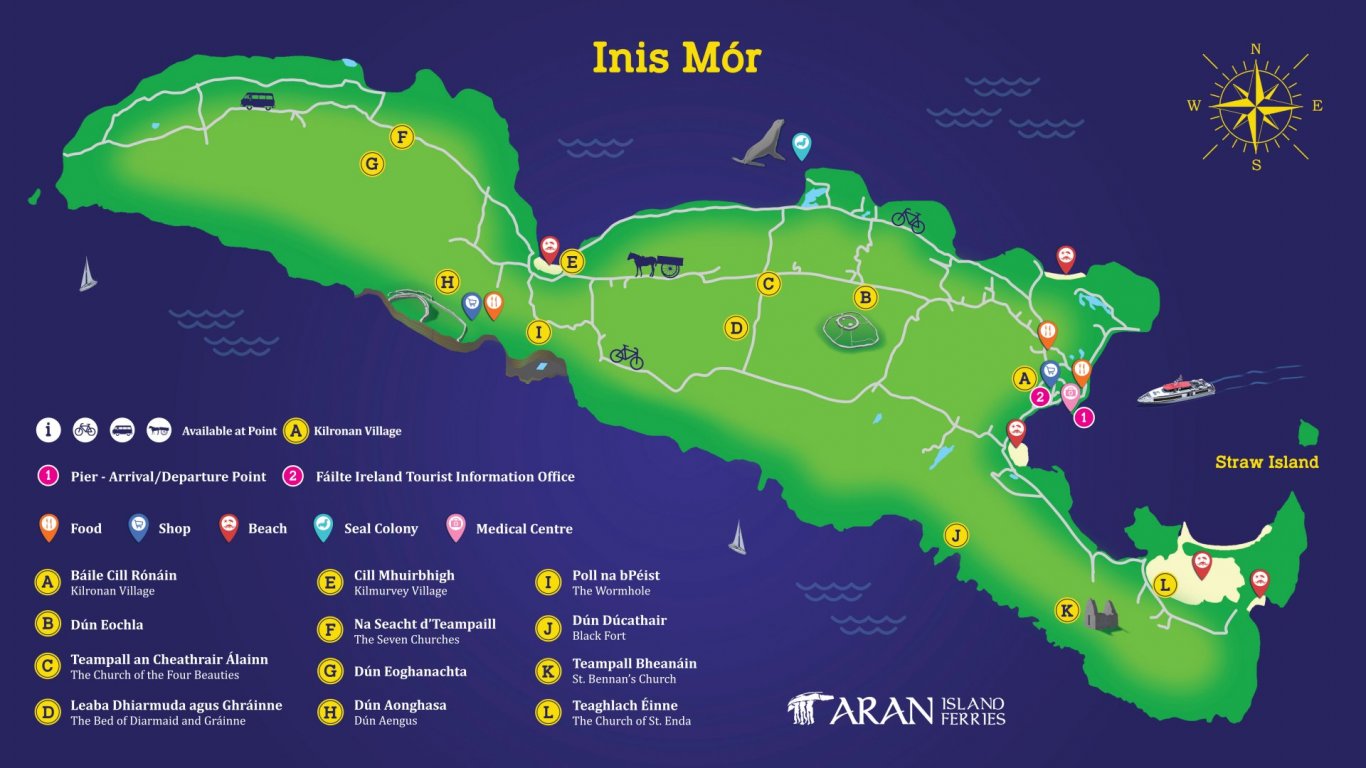 1. Bike Rental (POINT A ON MAP)
Cycling is a wonderful way for the family to experience the main attractions on the island together as all of the local tourist spots are accessible by bicycle. With Aran Bike Hire located right by the pier, you can rent mountain or electric bikes for more challenging trips, or a city bikes for leisurely rides. What's more, children's bicycles, child seats, and buggies are also available, making it a great choice for all the family. Many of the staff at Aran Island Ferries recommend the 45-minute cycle to Dún Aonghasa (POINT H ON MAP). There are a number of 'bike parks' available throughout the island if you want to relax and linger over the views. For longer journeys up to Dún Aonghasa, an electric bike could be your best bet, while city bikes are perfect for moseying around Kilronan Village with younger kids.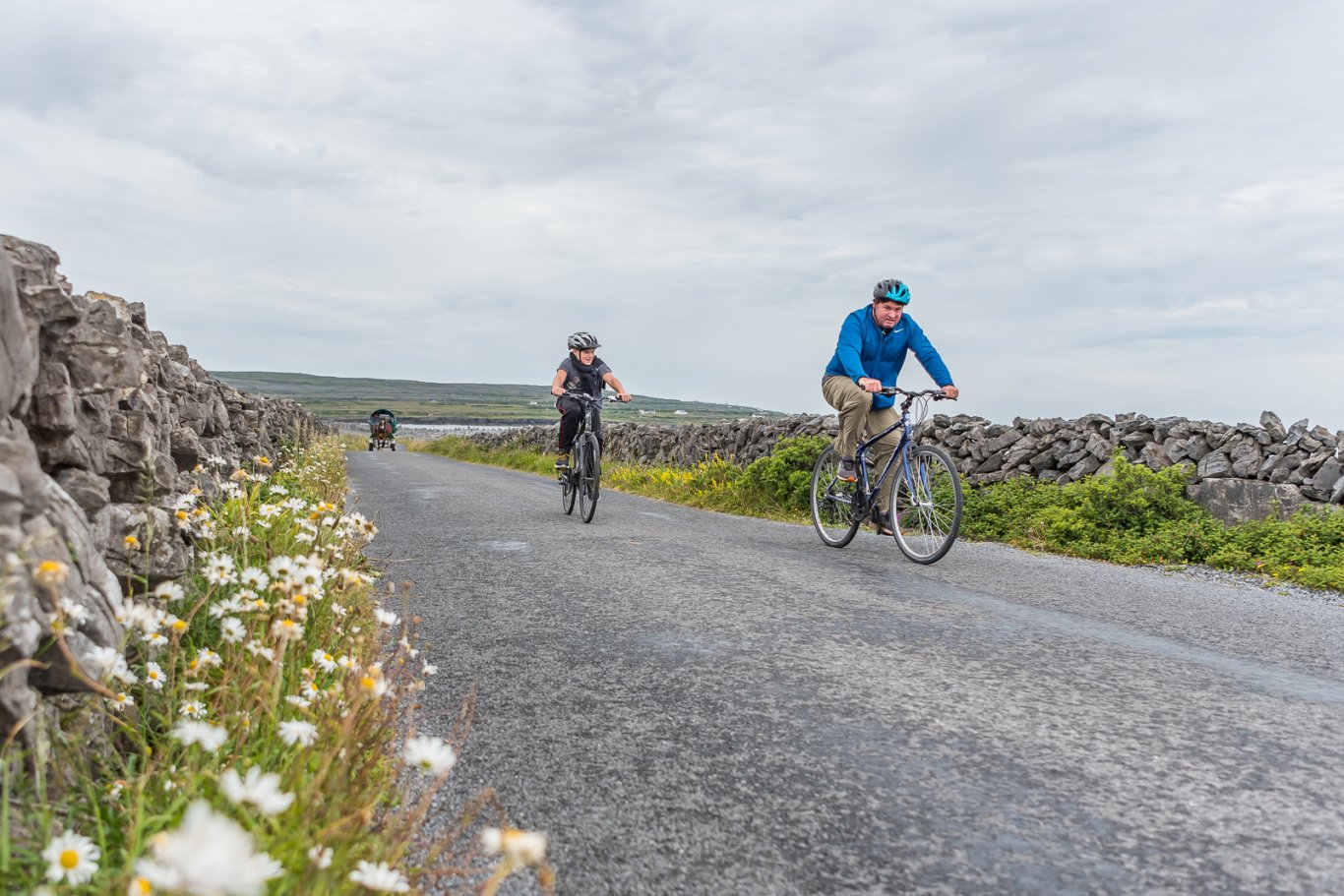 2. Tigh Joe Watty's Pub
Between the warm welcome from owners, PJ and Grace, to the delicious seafood dishes served, Tigh Joe Watty's is well worth a visit. The pub is located in the bustling village of Kilronan, about a ten-minute walk from the pier, and serves locally caught fresh fish and a wide range of tempting meals, as well as a number of spirits, beers, and other refreshments. Dishes available on the menu may include their famous seafood chowder with hearty brown bread, Aran lobster pasta salad, and oysters on crushed ice. Tigh Joe Watty's also offers a special children's menu and tempting dessert list that are sure to satisfy even the pickiest of eaters.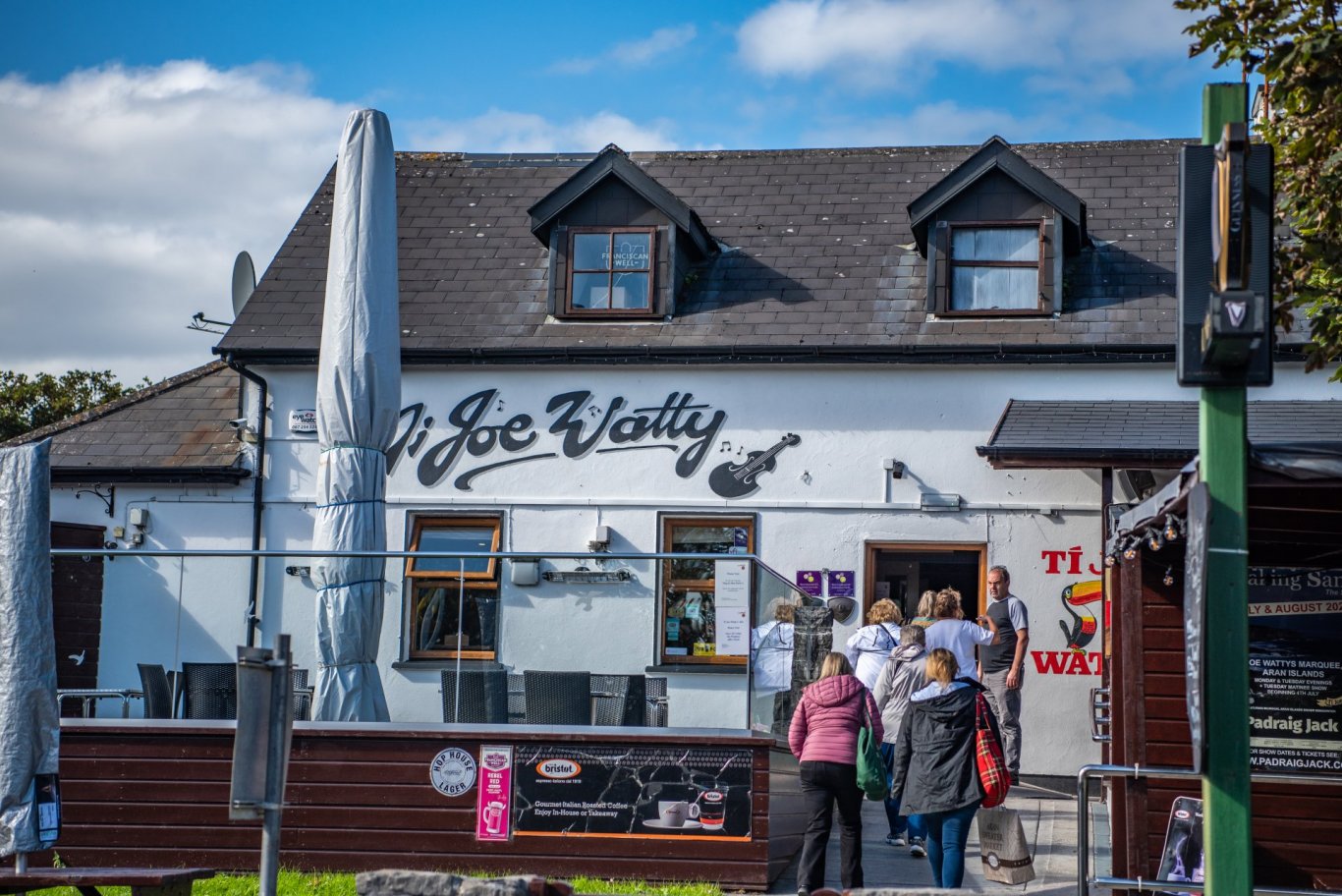 3. The Bar
Another well-known spot for a delicious meal, The Bar is a favourite among locals and visitors alike. Once a small thatched house in the village of Kilronan, the property has served as the local priest's home and, subsequently, a hotel. One of the oldest pubs in Inis Mór, The Bar is steeped in rich history and has been the setting for countless family lunches throughout the years. The friendly and welcoming staff promises good food, great music, and a bit of craic. Sit outside and watch the ferries come and go...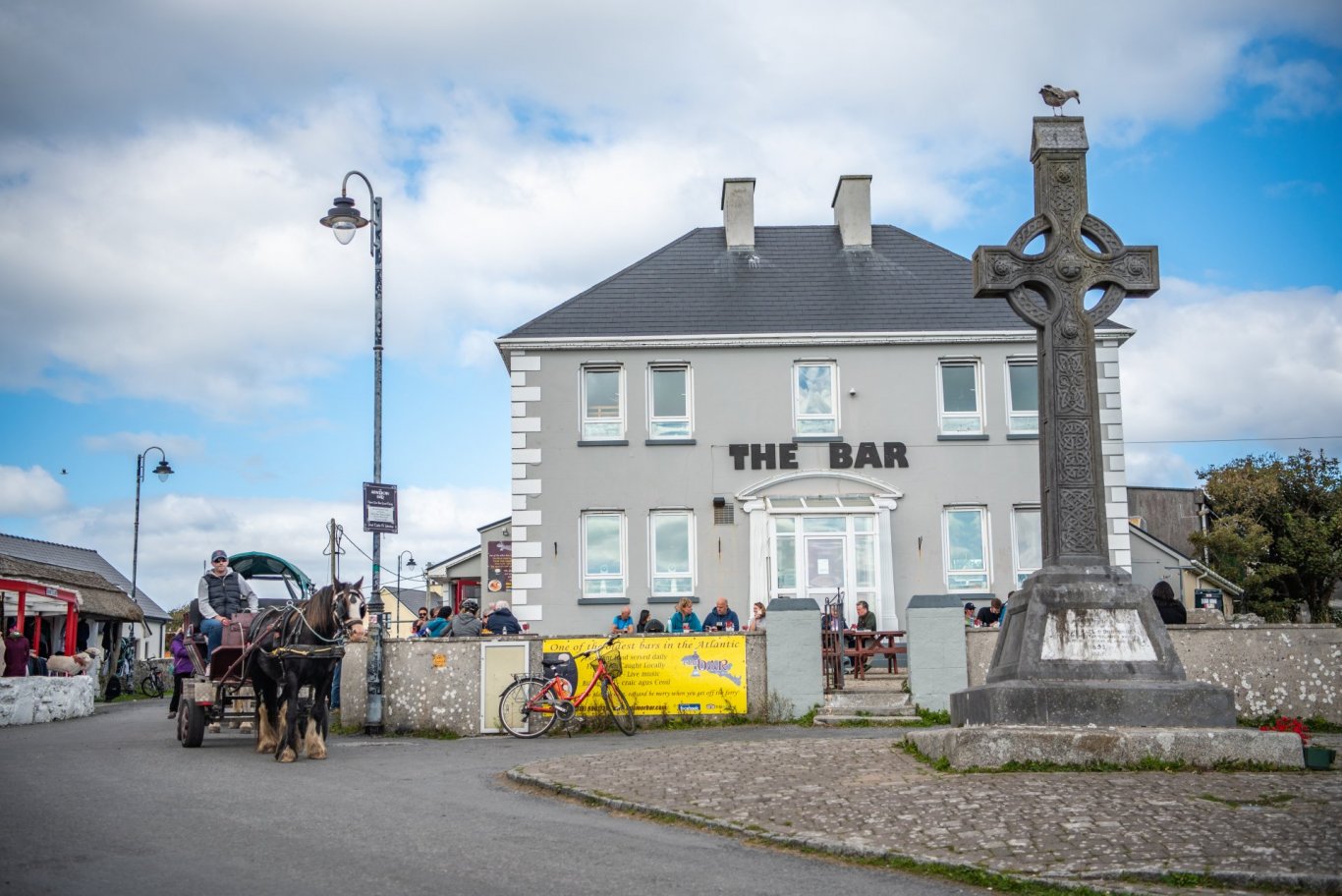 4. Dún Aonghasa
Dún Aonghasa (point H on the map) is a well-known stone fort that sits atop the highest point of the cliffs on the island's southern coastline and offers captivating views of the wild Atlantic ocean. It's about a fifteen-minute walk from Kilmurvey Village (point E) so it's easy to pop in for a cuppa on your way back. If you're up for a challenge, you can opt for a bike ride and make your way from the pier to the site while taking in the stunning scenery that surrounds you. While there are no railings by the cliff's edge to obstruct your view, we'd advise keeping hold of your little ones' hands as you saunter around. Additionally, the rocky path up can get a little bit steep, so take your time with it!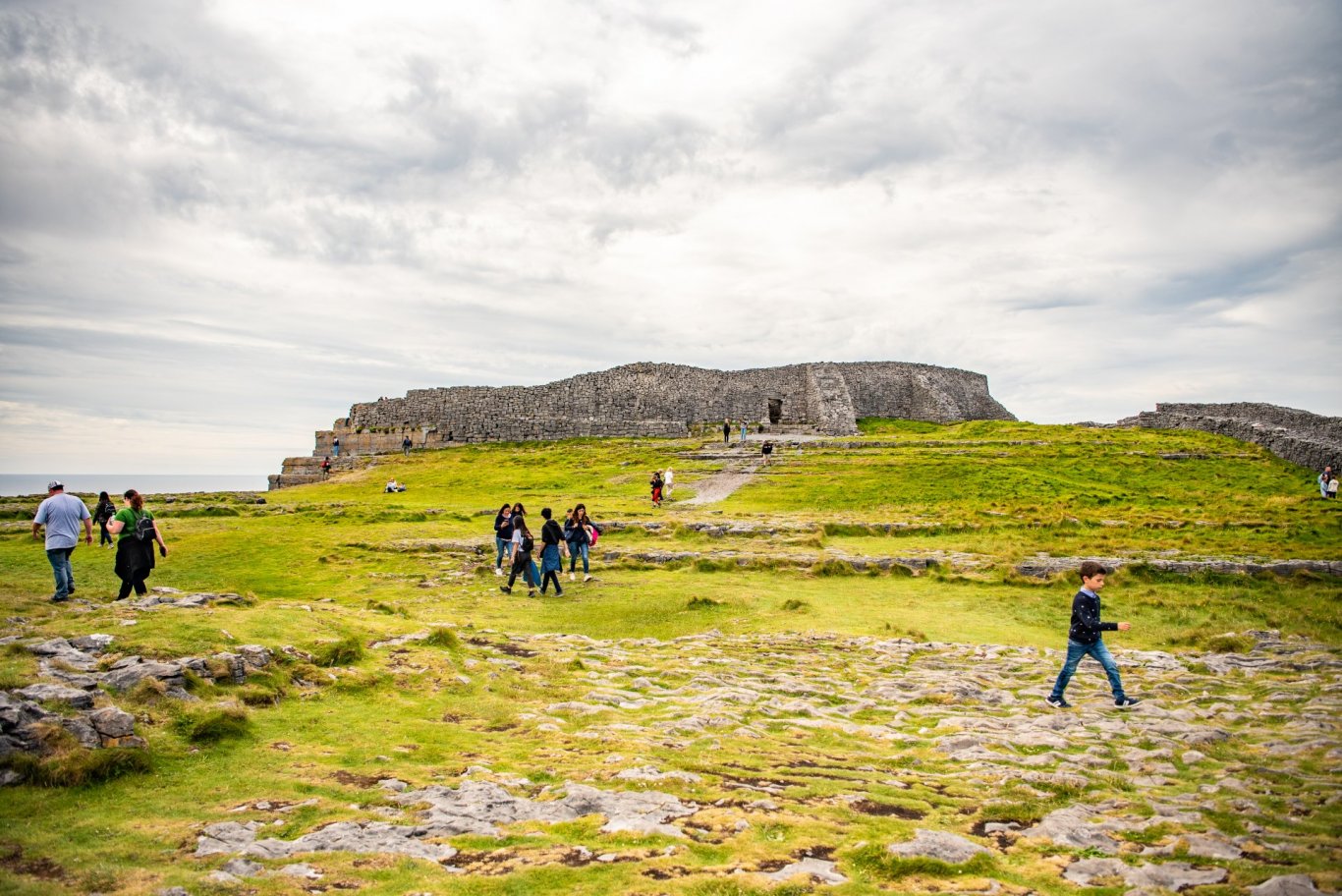 5. Kilmurvey Craft Village
After being on-the-go for a few hours, there's no better cure for fatigue than a hot cup of tea and a bit of retail therapy! Kilmurvey Village (known as Gaeilge as 'Cill Muirbhigh') is located at the base of Dún Aonghasa at point E on the map, and has a number of delightful craft and coffee shops guests can enjoy.
Teach Nan Pháidí is famous for its home-baked goods and gives the kids the opportunity to get their sugar fix while you relax by the fireplace and enjoy a pot of tea. Their menu features delicious homemade soups, sandwiches, and treats that really can't be missed. Many choose to snap a photo at this picture-perfect thatch cottage, and with the springtime flowers in bloom, you're sure to want to do the same.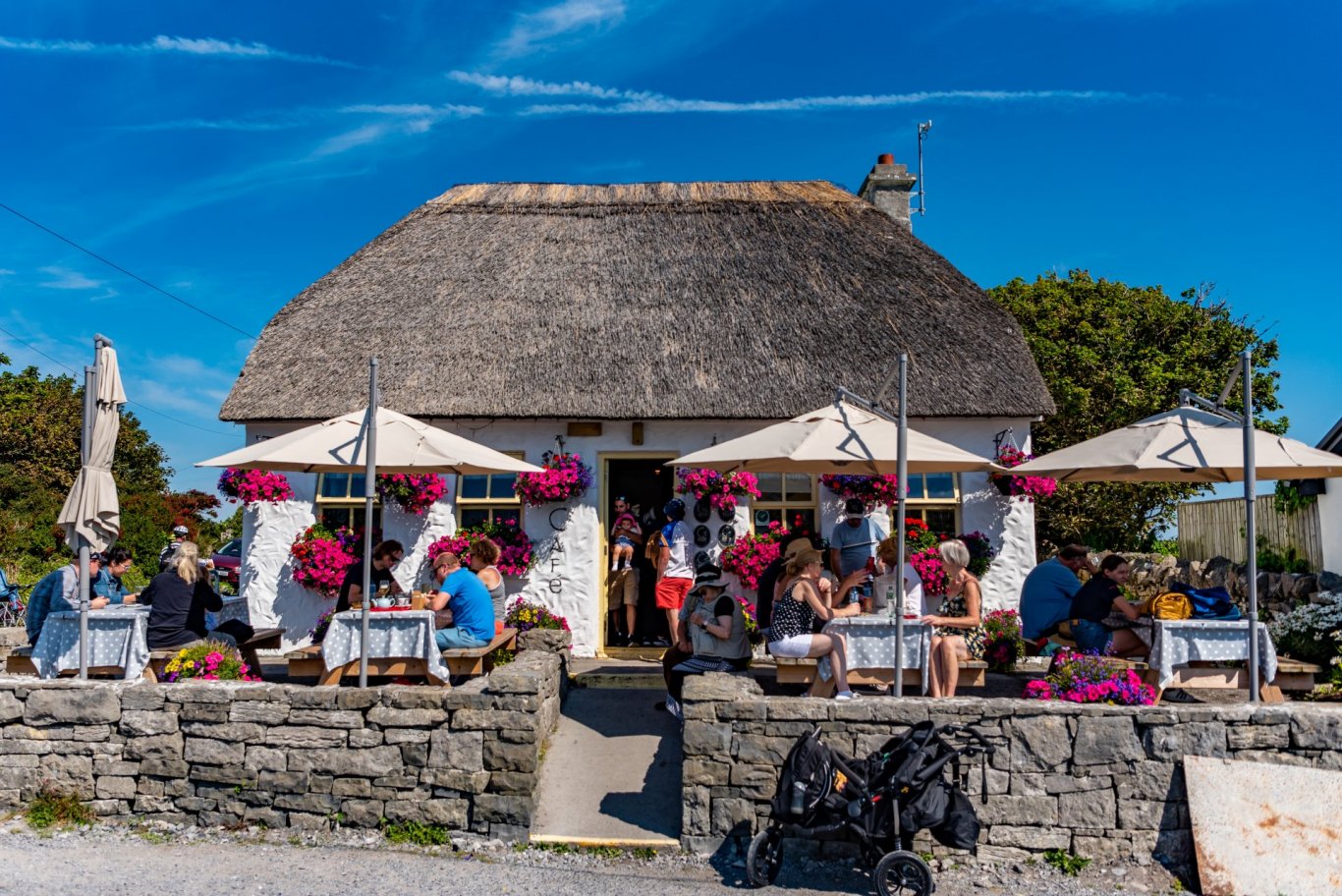 6. A Trip To The Beach
No matter the weather, the beaches of Inis Mór are breathtakingly beautiful. Kilmurvey Beach is only 7km from Kilronan Village (by point E on the map) and is the perfect spot for a relaxing oceanside walk. Boasting a Blue Flag status, this beach is ideal for sandcastle-building, refreshing swims, and for lounging in the sun. Kilmurvey is on the sheltered side of the island and is great for swimmers of every age. After a walk along the sand, you and the family can enjoy a packed lunch and some treats before heading back to the pier. It can take about 30 minutes to travel back to the pier by bike, so make sure to leave with plenty of time.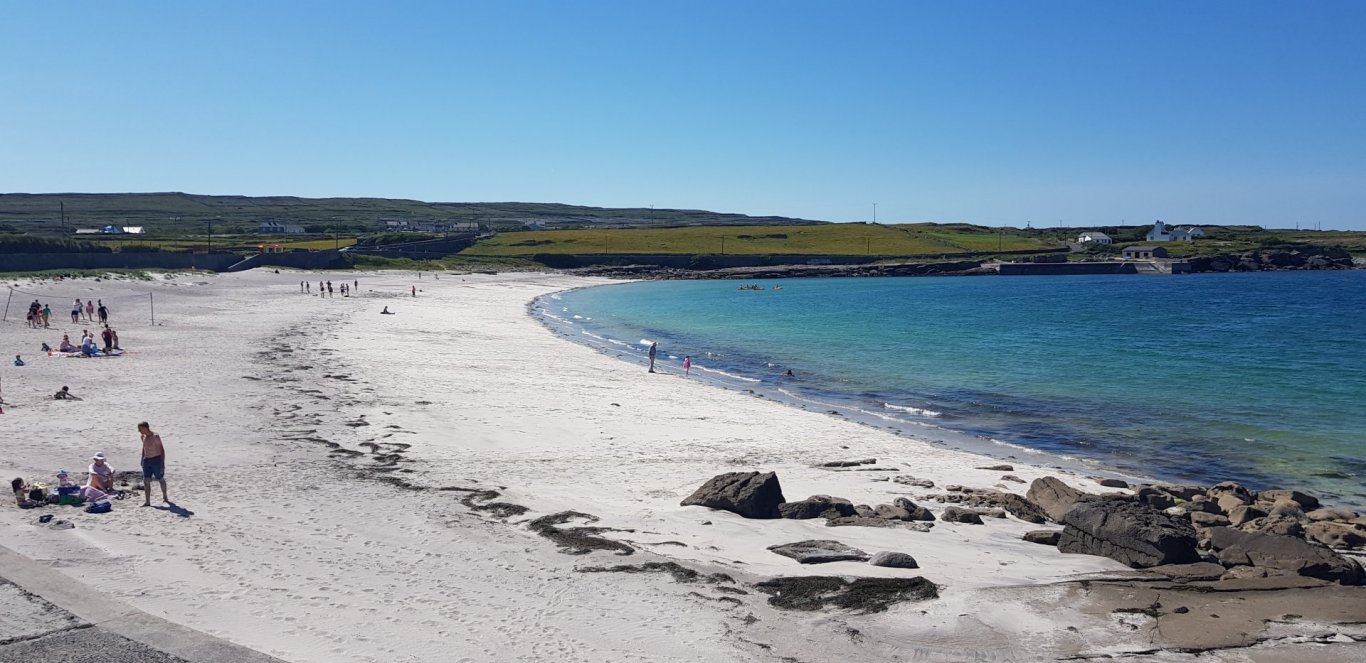 7. Wildlife Watching
The seal sanctuary near Kilmurvey is a busy spot year-round. Once hunted to safeguard the fish stocks for the islanders, the species are now protected and celebrated as residents themselves. Atlantic seals come onshore to breed and can be seen lounging on the rocks. Add flocks of migratory birds, geese, gulls and raptors, and quiet, scenic beaches on which to watch them, and Inis Mór is a wildlife enthusiast's dream!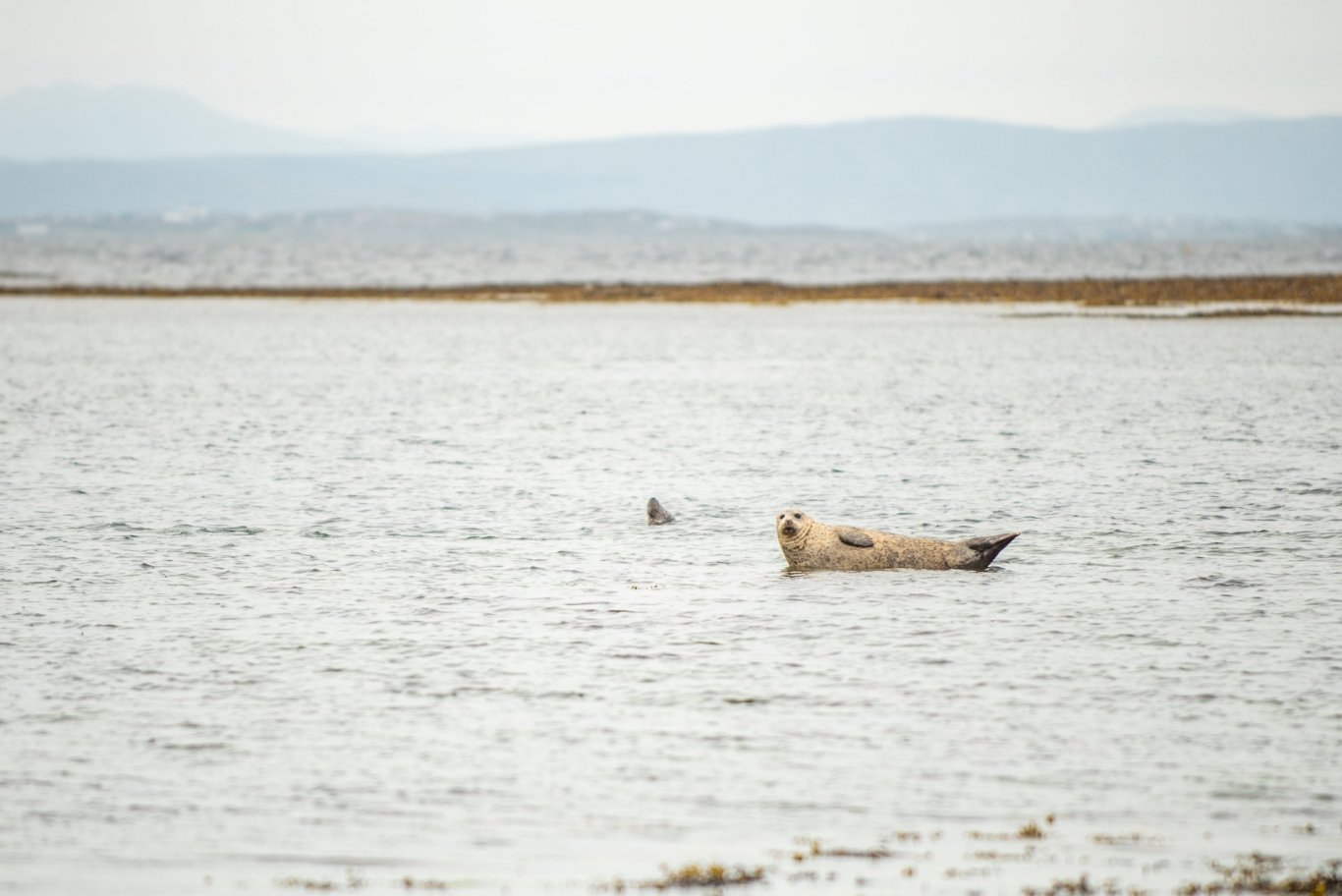 8. Playtime Bliss
If you fancy a rest but the kids are determined to burn off more energy, there's a playtime bliss on the island in the form of the island's playground, complete with swings and an obstacle course. It's a 10-minute walk from the pier and boasts stunning views of the Atlantic vistas. Let the kids roam free, while you sit back and relax.. sound like a plan?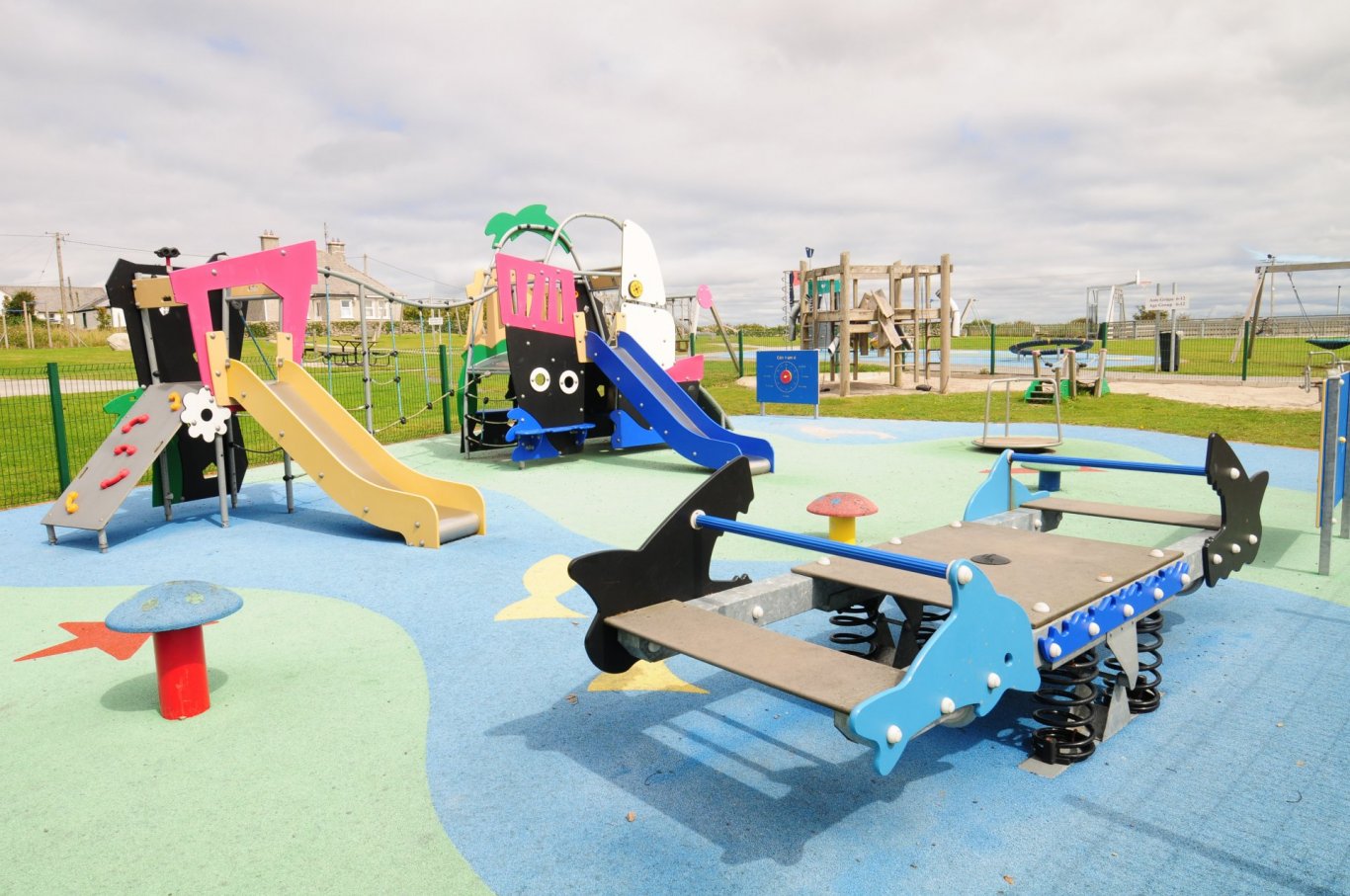 Thanks for reading our top tips! If you have any other questions, call us on 091 569 903 or email info@aranislandferries.com for more information and family rates. Aran Island Ferries sail year-round to the Aran Islands from Rossaveel Ferry Terminal and seasonally from Galway City. You may also book your next visit online from Rossaveel Ferry Terminal or directly from Galway City.