Event Date: Jun. 30th 2022
5 of the Best Family Friendly Activities on Inis Mór
The rocky, windswept Aran Islands are famous for their desolate beauty and lunar landscapes. Step on to one of these islands and you'll feel like you're much further removed than the ferry ride suggests. (40-minutes from Rossaveel, Connemara and 90-minutes from Galway City Docks).
Despite being the biggest (with a population of 800), Inis Mór is only 14km long, and retains a pleasantly diminutive feel for visitors. Here are 5 things your family will want to do when you get here..
1. Hit the Beach
There's no shortage of shimmering turquoise waters on Inis Mór. Pack a picnic basket and head down to Kilmurvey Beach, 7km from the main village, Kilronan. It's suitable for old and young swimmers as there is no strong current. Take a dive for a refreshing swim – or just dip your toe if the weather's too chilly – either way, you can't help but be awestruck at the serene stretch of sea and sand. Take a gentle family stroll and enjoy the tang of sea air, build sandcastles, or go shell-hunting before tucking into your sandwiches at one of the nearby picnic spots. Nature has also provided a thriving seal colony nearby to keep the little ones suitably entertained. If you're lucky you'll see some friendly seals bopping up to say hello. At low tide they'll be lounging on the rocks, so take this opportunity to take a few pics and wave hello!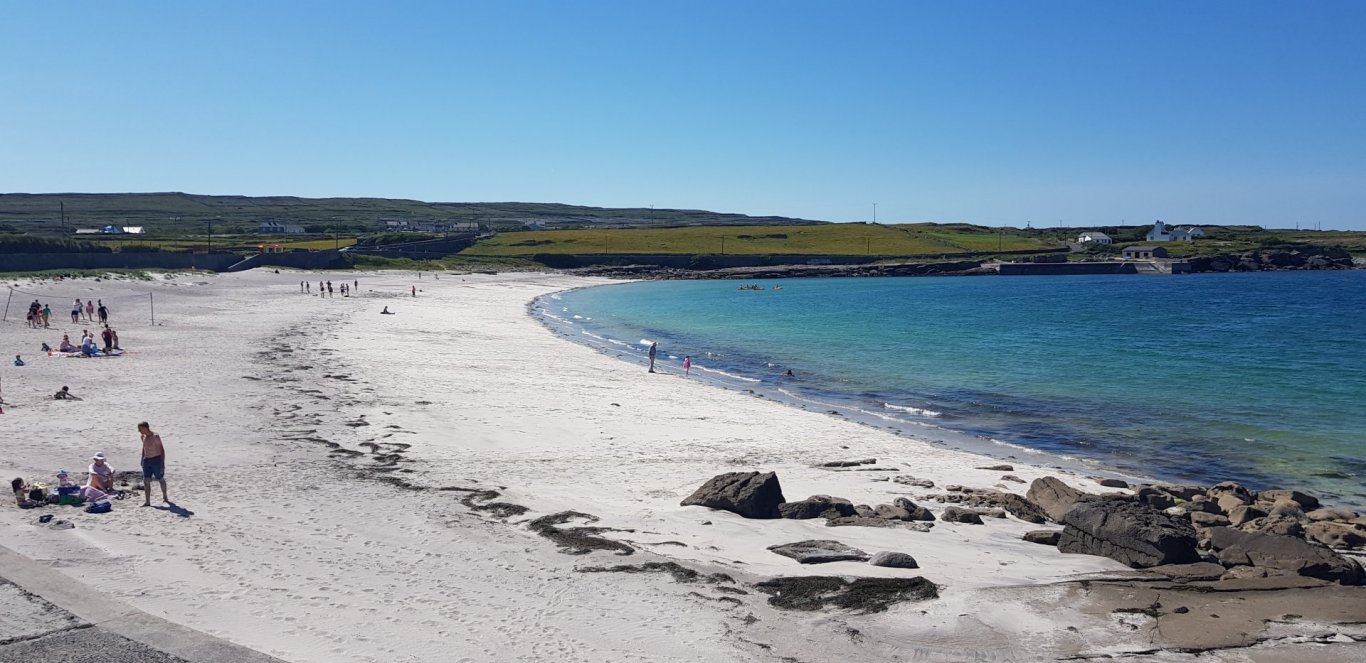 2. Get Lost in the History of Dún Aonghasa
The ancient stone fort of Dún Aonghasa clings precariously to a cliff-edge, and it's the largest prehistoric stone fort on the island. The best way to get there is by biking through the stone-walled boreen of the island, a little adventure in itself. It's a 1km walk from the visitor centre and just before you get to the top the path, it gets a little rough, so younger children need to take extra care. The cliff's edge doesn't have a protective barrier so hold onto little hands as you soak in the breath-taking views. The fort contains evidence of human habitation that dates back to 1500 BC, with three terraced walls surrounding an inner platform. Excavations carried out in the 1990s indicated that people had been living at the hill top from c.1500 BC with the first walls and dwelling houses being erected c. 1100 BC! The Visitor Centre is currently free to enter.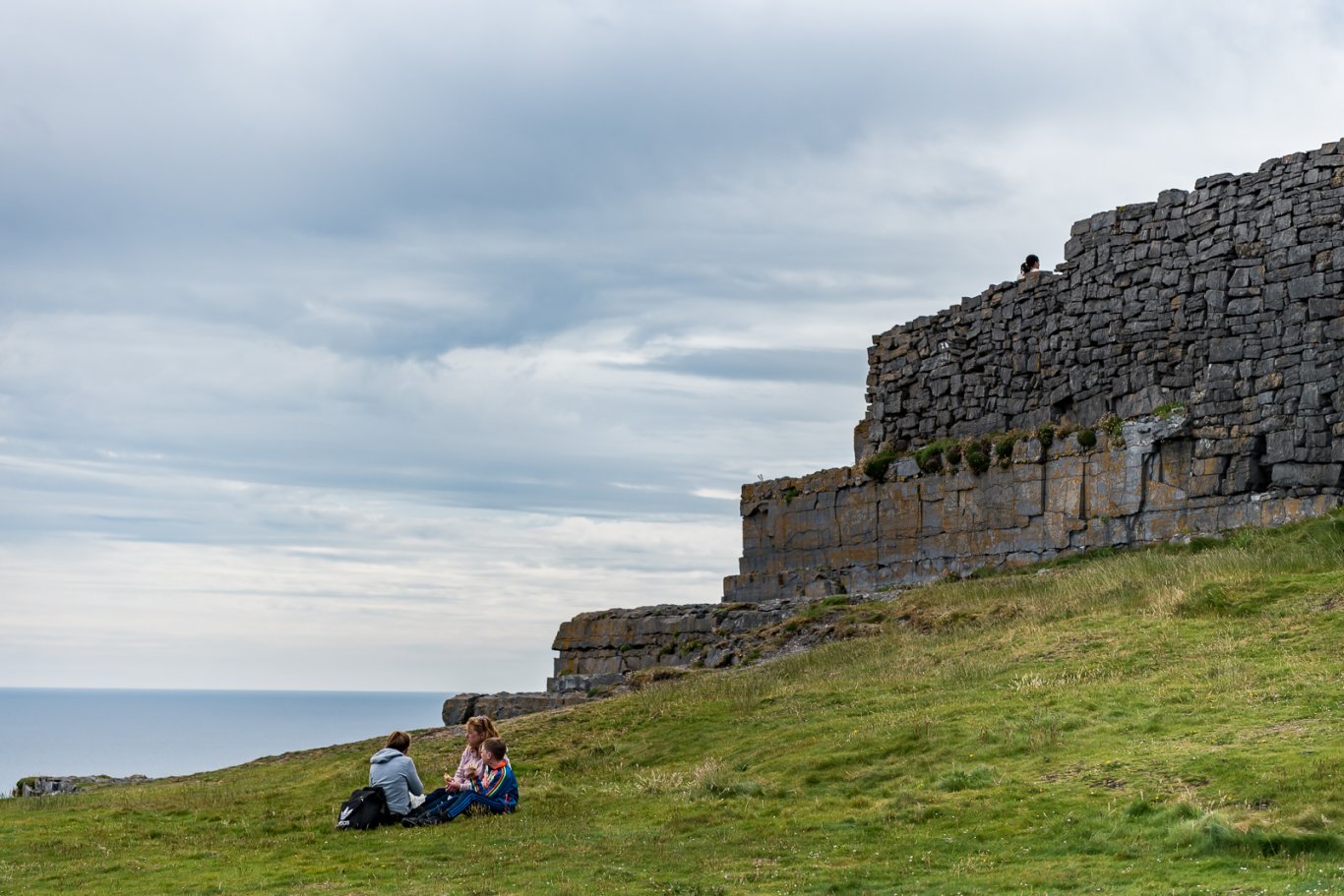 3. Pedal to Paradise
Bike riding around the island is an attraction in itself, with Aran Bike Hire offering a range of bikes, including child bikes, tag-alongs, and buggies so there's endless options for families. There are three roads that you can take from Kilronan. From Kilmurvey beach you can take the north side road which runs by the ocean and gives you stunning views of the mainland as you pedal your way back to the main village. You'll hop off your bike plenty of times on your trip, to explore the sites and attractions: one of our favourites is Teampall Chiaráin, a small 12th century church; check out the beautifully carved boundary cross with a circular hole at the top on the eastern side, once possibly used as a sundial and symbol of fertility and good luck. Kids will love the wildlife – donkeys, rabbits, otters, and ponies call this island home.
4. Playtime Bliss
If you fancy a rest but the kids are determined to burn off more energy, there's a playtime bliss on the island in the form of the island's playground, complete with swings and an obstacle course. It's a 10-minute walk from the pier and boasts stunning views of the Atlantic vistas. Let the kids roam free, while you sit back and relax.. sound like a plan?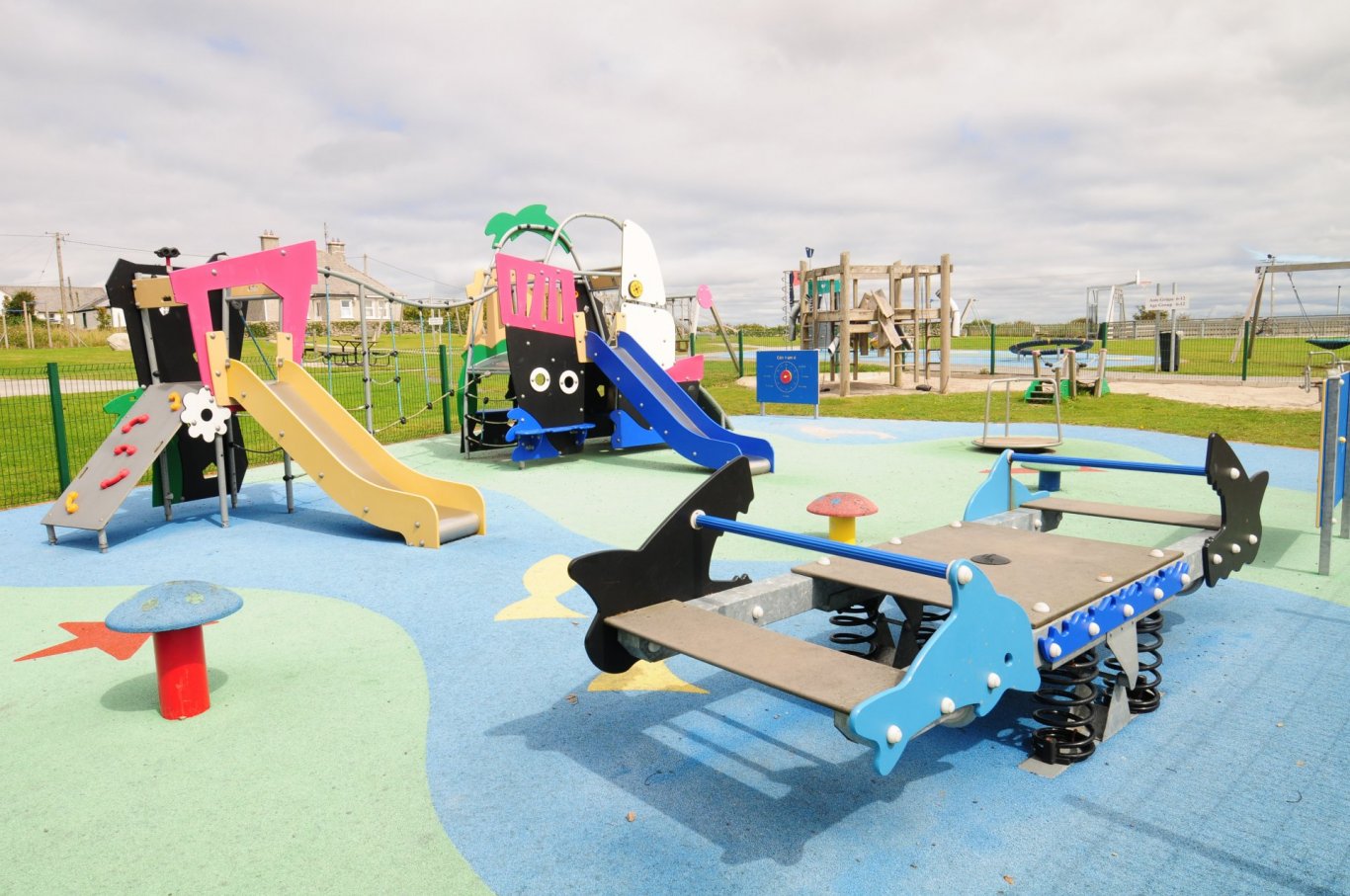 5. Have a Bite to Eat
A trip to Inis Mór wouldn't be complete without experiencing the lively outdoor pub atmosphere on the island. The Bar and Joe Watty's are ideal spots for families looking to recharge on tasty, traditional fare, after a busy day on the island. Dig into a delicious plate of seafood or an Irish stew and recall the events of the day. Children can enjoy a number of options from the kids menu.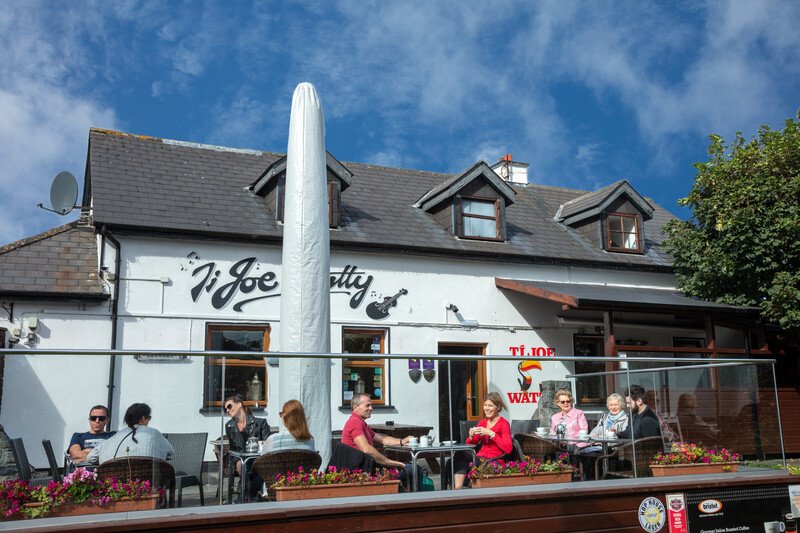 Prepare for a warm welcome on board our ferries. Families looking for an unforgettable day out will find it on the islands.
Ferry Rates for Families
Call to enquire about our family rates on 091 568 903 or email info@aranislandferries.com
Staying Overnight?
As the saying goes.. 'one day is never enough'; there are some excellent overnight accommodation options with Aran Camping and Glamping, Kilronan Hostel, BnB's and the Aran Islands Hotel on Inis Mór.