11th Jan 2023
The Banshees of Inisherin filmed on Inis Mór (Inishmore)
The stunning landscapes of Inis Mór (Inishmore) are showcased in The Banshees of Inisherin, the big winner at the Golden Globes in Beverly Hills last night, winning Best Picture – Musical or Comedy, Best Actor for Colin Farrell and Best Screenplay for writer-director Martin McDonagh.
Filming for The Banshees of Inisherin took place on Achill Island and Inis Mór, the largest of the Aran Islands.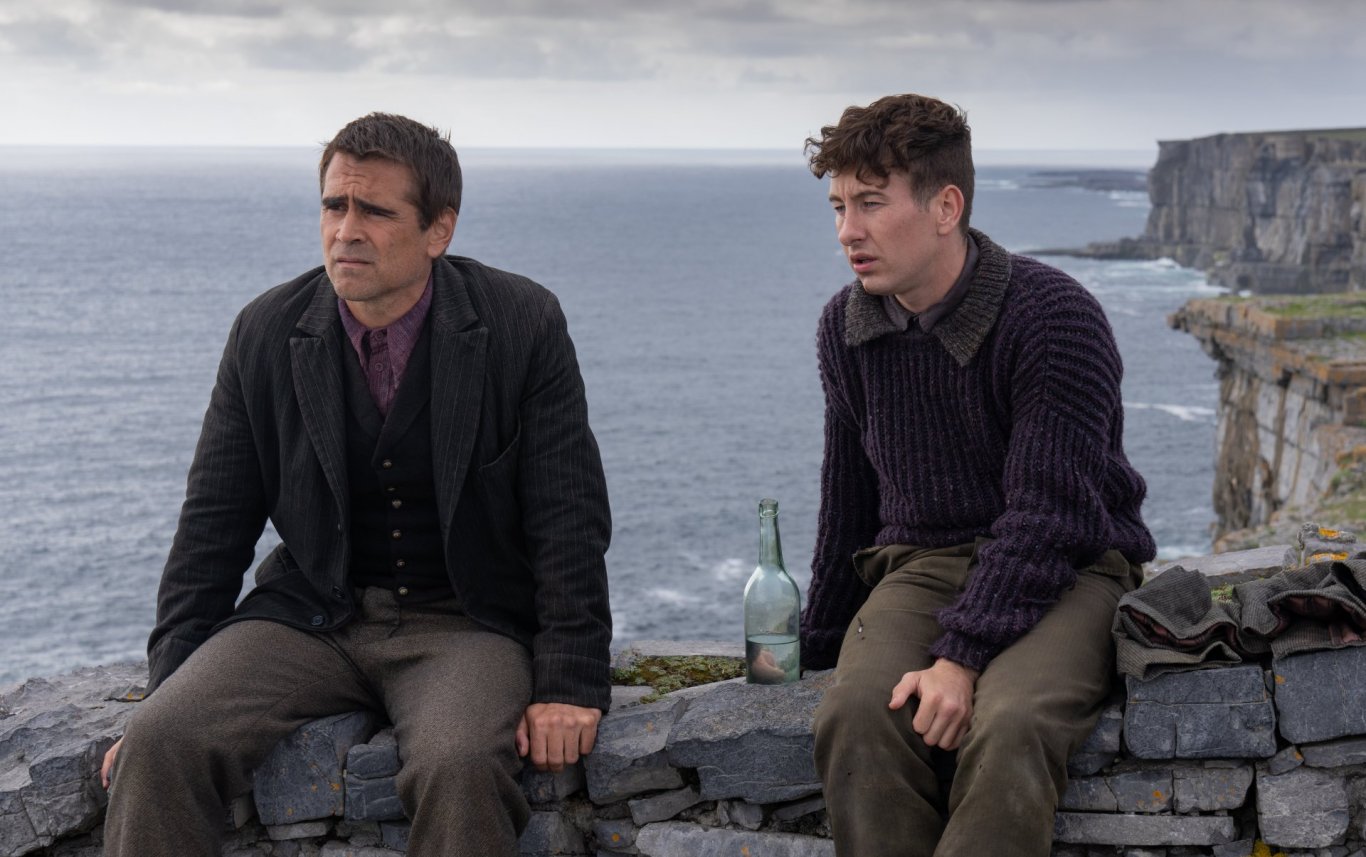 Colin Farrell (who plays Pádraic) and Barry Keoghan (Dominic) at Dún Aonghasa on Inis Mór.
The film is set on an imaginary Irish island in 1923 during the Civil War. It focuses on two best friends who suddenly have a falling out, and the consequences it sets off for both of them. A story of "wounded male feelings" and a "dance of death between aggression and self-harm," according to the Guardian.
McDonagh reunited In Bruges stars Colin Farrell and Brendan Gleeson for the project. The black comedy had led the shortlist with eight nominations.
Tourism Ireland – in conjunction with Searchlight Pictures – has created a short behind-the-scenes featurette, using footage shot during filming for The Banshees of Inisherin. It includes director, writer and producer Martin McDonagh, as well as actors Colin Farrell (who plays Pádraic), Brendan Gleeson (Colm), Kerry Condon (Siobhán) and Barry Keoghan (Dominic), who describe and praise the special locations chosen for filming.
In the behind-the-scenes featurette, Martin McDonagh says, "What we wanted to capture in the film was the beauty of Ireland and the cinema of it. We just wanted to make one of the most beautiful Irish films we could possibly make."
Filming on Inis Mór took place at Gort na gCapall, Bungowla, Lighthouse Lane, Dún Aonghasa and Rabbit Beach.
In the Irish Examiner, McDonagh remembers visiting Inis Mór (Inishmore) as a child. "Mum and dad are from Sligo and Galway. I think my first trip to Inishmore was when I was six," McDonagh recalls. "I still have quite vivid memories of getting in the ferry but you had to climb off the ferry into a smaller boat to get onto the pier back then. I remember the danger of that, and how clear the water was, and the beauty of the island."
As a child, McDonagh spent regular periods in his parents' home counties. "Even as a kid, I thought capturing this in photographs seemed like it could be interesting to me. So when you get into a position of knowing you're going to make an Irish film, you have a catalogue of all the most beautiful places in your head. The Aran Islands were uppermost," says McDonagh.
Aran Island Ferries is Ireland's longest and largest ferry company sailing year-round to all three of the Aran Islands: Inis Mór (Inishmore), Inis Meáin (Inishmaan), and Inis Oírr (Inisheer).
For more information on our sailings, please refer to our timetables, rates and booking page.