12th Oct 2020
Ireland's Largest Domestic Ferry Leaves Hong Kong
From the Far East to the Far West.. 'Saoirse na Farraige' is on her way
Aran Island Ferries will make history this year, when Ireland's largest domestic ferry, 'Saoirse na Farraige,' becomes the sixth member of the fleet.
Partnering with Cheoy Lee Shipyards, a world-leading ship building company in Hong Kong, the 40-metre vessel with a capacity of 400 was first commissioned in January 2019.
The vessel is embarking on a 15-thousand mile journey towards Galway Bay and is traveling inside the hold of a heavy lift ship called 'Svenja', belonging to 'Sal Heavy Lift'.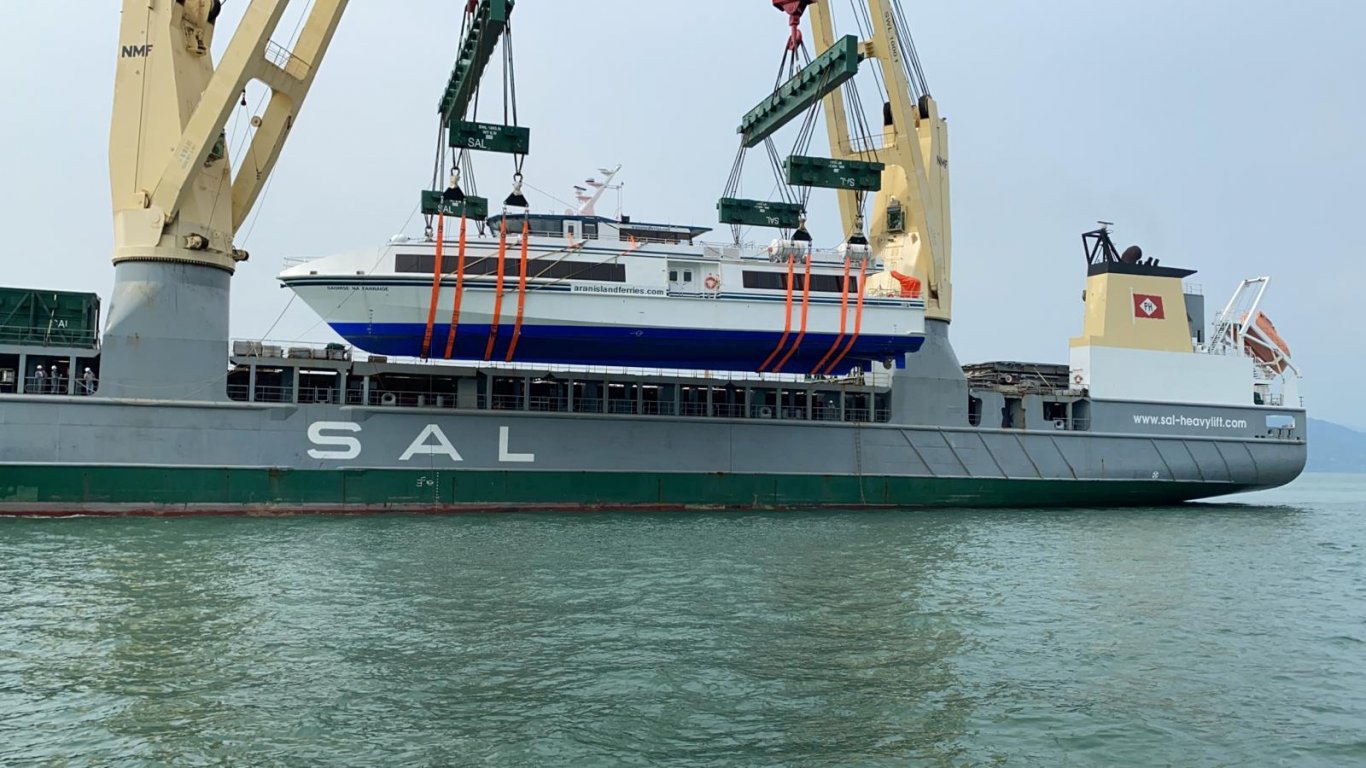 'Saoirse na Farraige' has at least three more stops to make before arriving in Galway Bay at the end of October. The ferry will not enter service until April 2021.
Marketing Manager, Aine McLoughlin said "We are really looking forward to officially launching 'Saoirse na Farraige' next year and seeing visitors enjoy their journey to the Aran Islands onboard our new ferry."
Owned by the O'Briens of Connemara, this family has an enduring relationship with the Aran Islands since they began to trade turf there in the early 1900s.
Aran Island Ferries co-founder, Paddy O'Brien, worked on the deck of his father Michael's Galway Hooker, 'An Tónaí,' and when the turf trade started to decline, they began carrying passengers to the Aran Islands.
Inspired by his father's work and committed to improving their passengers travel experience, Paddy and his wife Sally, bought the 'Dún Aengus,' a 48-seater in 1983, and the first domestic ferry with a passenger licence on the west coast.
Today, Paddy and Sally's family: Susan, Sharon, Cian and Niall, continue to deliver on their parent's commitment, by introducing ferries with advanced technology to the fleet, ensuring a safe, comfortable journey for passengers.
"Resilience, tenacity and an enduring optimism has enabled the business to grow from carrying passengers on a Galway Hooker to Ireland's largest domestic ferry this year," said General Manager, Susan O'Brien. "We will continue to exercise these qualities regardless of the environment we operate in and are looking forward to welcoming 'Saoirse na Farraige'."
The longest running passenger ferry business from Galway to the Aran Islands view the investment as a vote of confidence in Island tourism and would like to see their new ferry postively impact businesses in the west of Ireland.