FAQs / Refund Policy
Frequently Asked Questions
Is parking available at Galway Harbour?
Yes, parking is available at Galway harbour. The car park is located opposite the entrance to the Galway Harbour Hotel car park (please see map at the bottom of the page). Spaces need to be booked in advance with the Port of Galway via this link: https://theportofgalway.clr.events/event/132149:ferry-parking-2022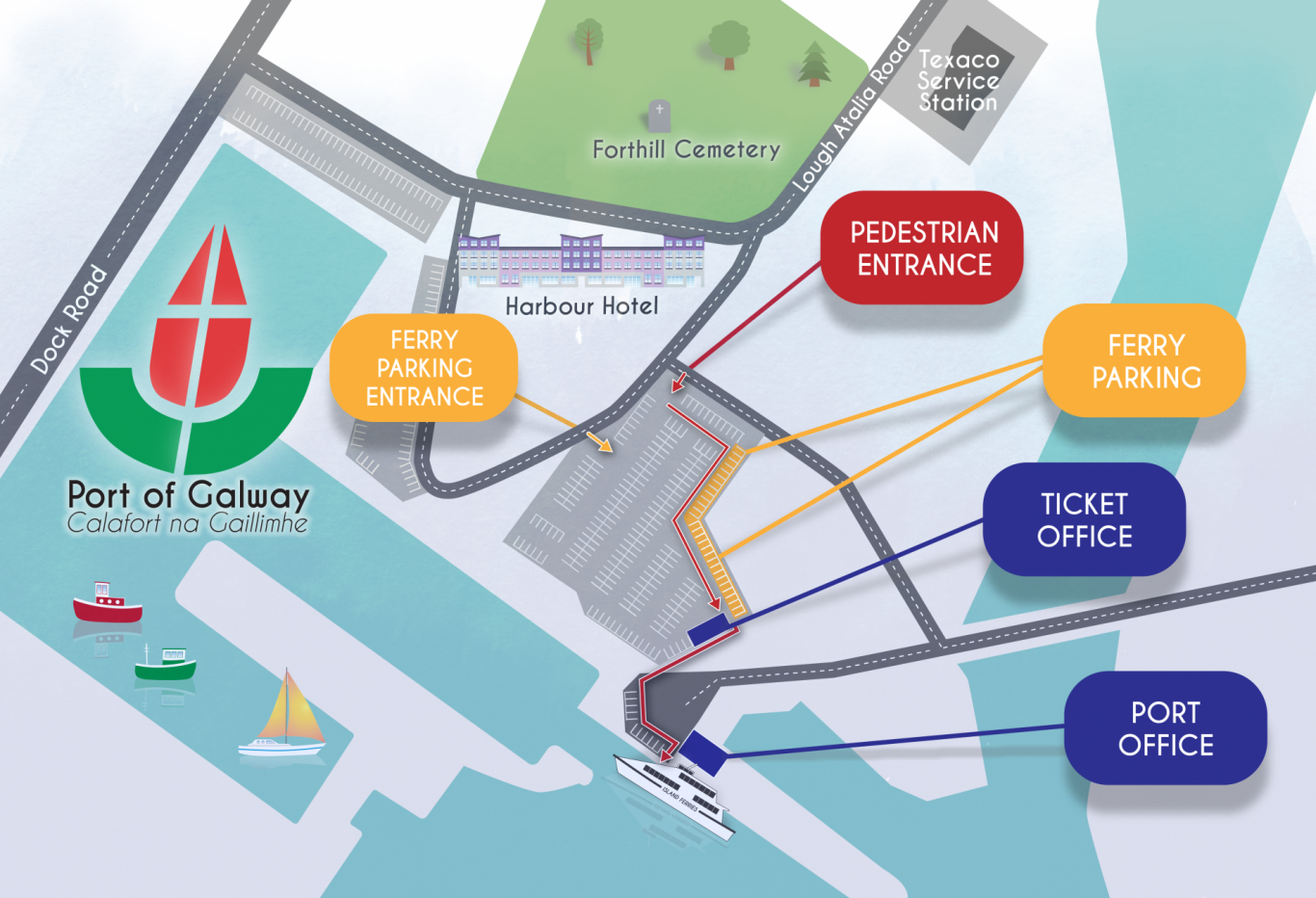 Where else can I find parking close to Galway Harbour?
There are a number of car parks in Galway city that are in walking distance of Galway Harbour. Please do your research in advance and allow enough time to walk from your chosen car park to one of our Galway city offices to collect/validate your tickets before heading to the Harbour to board the ferry.
Jury's Hotel, Quay St. - Tel: 091 566 444
Harbour Hotel, New Dock Rd. - Tel: 091 894 800
Q-Park, Eyre Square - Tel: 01 878 8957
Railway / Radisson Car Park, Lough Atalia Rd. - Tel: 091 530 197
Fairgreen Car Park, Fairgreen Rd. - Tel: 086 3522925
Hynes Yard Car Park, Merchants Rd. - Tel: 091 563 849
Can I take my car to the island?
There are no car ferries operating to the islands. Ferries to the Aran Islands are for foot passengers only. There is another company operating a cargo boat from Galway Docks three days a week. Contact 'Lasta Mara Teo' on 091 562900.
Where do I go to board the ferry?
Please proceed through the signposted car park to board the ferry. The entrance to the car park is directly across from the Harbour Hotel car park entrance.
Directions to Ferry Gate: If heading towards Galway city take the first entrance on the left just before the Galway Harbour Hotel. (H91 E9PR). If leaving Galway city take the second entrance on the right just passed the Galway Harbour Hotel. Proceed straight where you will be prompted by signs to turn left into a car park. All passengers must travel through this car park to board the ferry.
What time should I present for boarding?
All passengers should present for boarding at the boarding gate 45 minutes prior to departure time.
Passengers who are driving should allow themselves additional time to park.
Please allow extra time during peak season as it is extremely busy.
Do I need to print my ticket ?
It is not necessary to print your tickets. Your booking confirmation contains your ticket. Just click on view ticket on your mobile device and present the QR code to our crew.
Provided you have a device with this QR code that you can present to our crew on boarding at Galway Dock and Inis Mór it is not necessary to print your ticket.
Can I choose what vessel I travel on?
Please note that any one of our five vessels will carry you on your journey. No ferry is guaranteed to travel on a specific route at any time and for that reason, you cannot request to travel on a particular ferry.
Can I listen to Audio Guide on the Ferry?
Audio Guide from Galway city to Inis Mór may be downloaded here. It's also available on Soundcloud Spotify. We encourage you to download this guide in advance as coverage at departure points and on board may be insufficient to listen to audio guides in real-time. Audio from Galway City to Inis Mór will not be played aloud on board.
Are dogs allowed on the ferry?
We do allow dogs on the ferry but they must be on a lead and remain on the outside deck at all times.
In addition, the Control of Dogs Regulations 1998 places additional controls on the following specific breeds of dogs on board.
Dogs on the following list, or strains and crosses thereof, must be on a lead of no more that two metres long and be securely muzzled.
Can I take my own bicycles on the ferry?
Yes but we have limited space for bicycles on the ferry so we recommend that you pre-book the space with us when booking your ferry ticket. The cost for a return transfer of a standard manual bike is €20.00 (€15.00 one way).We do not carry any Electric/Motorised Bikes, or bikes that weight in excess of 15kg. Please do not show up at the Docks with a bike if it hasn't been pre-booked. Passengers carrying bikes must sign a waiver prior to booking. Please note that bicycles can also be rented on Inis Mór with Aran Bike Hire at a cost of €20pp per day.
Do you Accept Free Travel Passes?
No. We do not accept Free Travel Passes on our departure from Galway Docks. Free Travel Pass holders may continue to use their pass on our Rossaveel route.
What happens if the ferry is cancelled due to bad weather conditions?
In such cases, we will happily change your ticket to travel on another day or issue a full refund. Please refer to our full refund policy below.
What should I bring with me?
We recommend bringing a camera, comfortable shoes, a good rain jacket, sunscreen and a little cash. Some businesses on the island do not accept card or have a minimum-spend policy in place. Headphones and/or earbuds will be required to listen to the audio guide on board.
Do the ferries still depart from Rossaveel?
Yes, our ferries depart from Rossaveel Ferry Terminal (H91 W9K1) and sail to all three islands year-round.
Do you arrange accommodation on the Aran Islands or Galway City?
No we do not arrange accommodation for passengers on any of the islands or the mainland. Please see below for more information on accommodation options.
Where can I stay on Inis Mór or Galway city?
Please refer to the following pages for a list of accommodation on Inis Mór. Our links page displays a list of Hotels/Hostels in Galway and transport you can avail of around the country.
Refund Policy
Provided we receive 24 hours' notice, a full refund is available if a sailing is cancelled due to Covid-19 restrictions. Passengers can also reschedule their booking to another date.
A full refund is available if a sailing is cancelled due to adverse sea or weather conditions, or you can opt to travel on the next available sailing.
No refund given if reservations are cancelled within 24 hours of departure time.
No refund given if reservation is booked and cancelled within 24 hours of departure time.
Refunds will not be given to groups (minimum 10 people) cancelling within 48 hours.
We operate from two departure points (Galway City and Rossaveel). Please note that if you wish to change/transfer your departure or return location, we need 24 hours' notice and this must be done by contacting 091 568 903 or emailing info@aranislandferries.com.