20th Nov 2023
The Ultimate Aran Islands Packing List
The Ultimate Inis Mor Packing List
A trip to the Aran Islands is an adventure like no other. Visitors are greeted off the ferry to impossibly turquoise waters, silver sandy strands, and scenes of a resilient island community that survived and thrived for thousands of years in this remote Atlantic outpost.
Inis Mór, 'the big island,' is home to around 800 inhabitants year-round. There are houses, pubs, and cafes, but in a quaint, old-fashioned setting, the likes of which doesn't exist anywhere else along the Wild Atlantic Way. You can pick up snacks, drinks, souvenirs, and other items in one of the island's shops, and hot food is served daily in many establishments.
Whether you head to the island in search of hiking, biking, and water sports, or you prefer a slow, scenic stroll around the iconic landscape, there are a few items you will need to ensure your day trip is a comfortable one.
So grab your day bag and let's get packing!
1 WATERPROOFS :
Regardless of the season, the weather on the Aran Islands is constantly changing. From a picture-perfect sunrise to moody grey clouds and Atlantic rainfall, we really do experience all four seasons in one day. A quality waterproof jacket is ideal to keep you warm and dry on your visit. Choose a lightweight, easily packable layer. A woolly hat and scarf can help keep the wind away too. There a number knitwear shops selling the iconic Aran Islands Sweater on the island, which will keep you warm.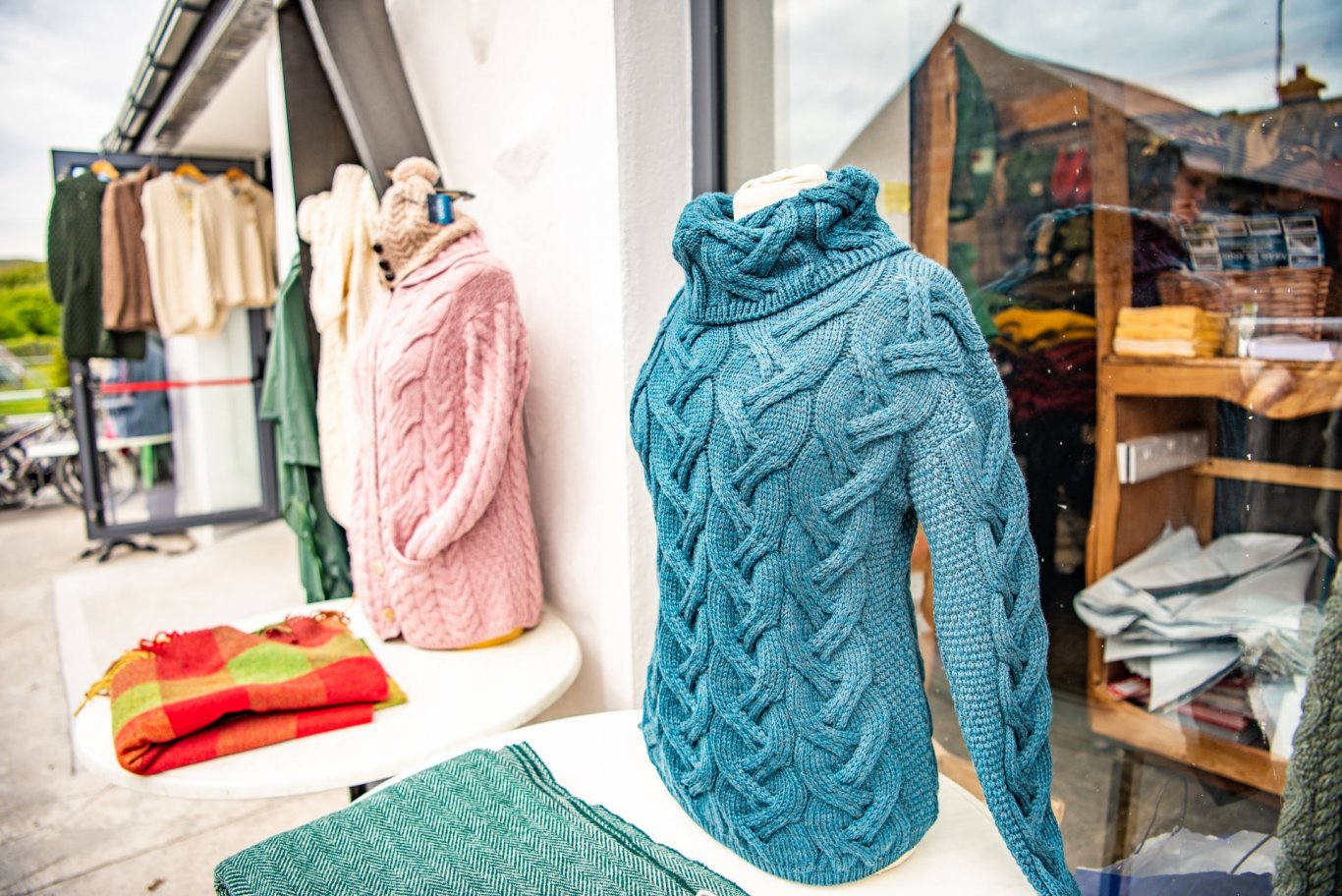 If you're lucky, you won't need waterproofs for your trip to the island. But it is better to have and not need than need and not have at all. Don't worry; there are plenty of pubs, cafes, and restaurants to wait out any weather!
2 CUPLA FOCAL :
Visitors from all over the world flock to the Aran Islands to immerse themselves in the local language. As a Gaeltacht region (a designated community where Gaelige is predominantly spoken), you'll notice all road signs and public information boards on Inis Mór are in the Irish language. Though many Irish people don't have the opportunity to use the language daily, the patient inhabitants of Inis Mór make every effort to help visitors use what words and phrases they do know.
If you feel like flexing your Irish, whatever your language level, head to a pub or café. Locals are patient and interested and will help you. You'll always find someone willing to share a 'cupla focal'!
3 COMFORTABLE FOOTWEAR :
As the islands are mostly flat with few hills and valleys, it is very accessible for walkers, cyclists, strollers. Comfortable shoes or hiking boots are a must.
Follow in the footsteps of our ancestors and ascend to the majestic heights of Dun Aengus, Inis Mor's famous cliffside Bronze Age fort, suspended some 100 meters high over the crashing waves. At 12km long and 4km wide, the island is perfect for a light stroll or a more challenging hike.
Whichever way you decide to go, keep your feet warm and dry as you tread the paths through the sparse karst landscape and uncover the secrets of Inis Mor's fascinating history.
4 CAMERA, CHARGER, SD CARDS :
Inis Mór offers a day trip with a difference: a chance to get out from behind the screens and enjoy a mini digital detox. But that doesn't mean your camera battery won't suffer! You'll be blown away by epic ocean views from the moment you set foot on the ferry. From the wide range of wildlife to rows of fields bordered by iconic stone walls, there is always something spellbinding to snap. Don't worry, there is a strong internet and phone signal, ideal for updating your followers too.
Are you a budding photographer or interested in documenting your day trip via video? Pack some extra SD cards and a pocket power bank, too. With so much to see and so many scenes to capture, one charge just won't do!
5 BINOCULARS, ID BOOKS :
If you enjoy wildlife, don't forget to pack a pair of binoculars. Birds and mammals in Inis Mór may be less used to human intervention and therefore a little braver in their choices of where to sit, feed, and rest, so binoculars are a perfect way to view without interfering with their habits.
Glimpse the seals at the colony, fearlessly sunning themselves at the seal colony. Depending on the season, you may be treated to swallows, house martins, herons and curlews, and the usual flocks of seabirds that nest on the cliffsides. Pop a bird identification book into your day bag to give names to these beautiful creatures.
ID books are not just for our feathered friends, and nor is Inis Mór. Keep a keen eye out for otters, stoats, and rabbits; the latter thrive without predatory foxes on the isle. Butterflies and bees keep the unique wildflowers of the Burren landscape buzzing with life. The island is even home to the common lizard, Ireland's only reptile.
6 KEEPCUP, PACKED LUNCH :
Inis Mór is a remote community with much pride in its appearance. In spring, you'll find colourful planters bursting with flowers lining the little streets. Thankfully, there is no litter present on the island. Visitors are encouraged to keep it this way and leave no trace.
If you're the carry-a-coffee type, consider packing your keep-cup; for convenience, to save on disposable waste and keep your beverage hotter for longer—ditto for snacks and sandwiches. Pack a lunchbox, reusable napkins, and whatever else you may require to assemble a little picnic and reduce waste.
7 SUNGLASSES, SUN CREAM :
That Atlantic sun can shine fierce, no matter what month you visit the offshore islands. Sunglasses are a must to enjoy the views without the glare, especially out on the water. In winter, the sun hangs lower in the sky, often in our eyeline. The weather may be crispy cold outside, but the beams and rays are still pervasive.
In addition to sunglasses, pop a bottle of sun cream in your daypack. Although UV levels are reduced off-season, they can still remain high, especially on those clear blue sky days. Sun cream also moisturises and protects your face and neck against windburn. A carry-on size is enough. Your skin will thank you for it!
8 FAMILY!
OK, maybe your nearest and dearest don't necessarily belong on a packing list, but a trip to Inis Mór is easy, accessible, and fun for all the family. From the very young in buggies, to the less mobile members of the clan, there is something for everyone on the Aran Islands. Don't leave anyone behind!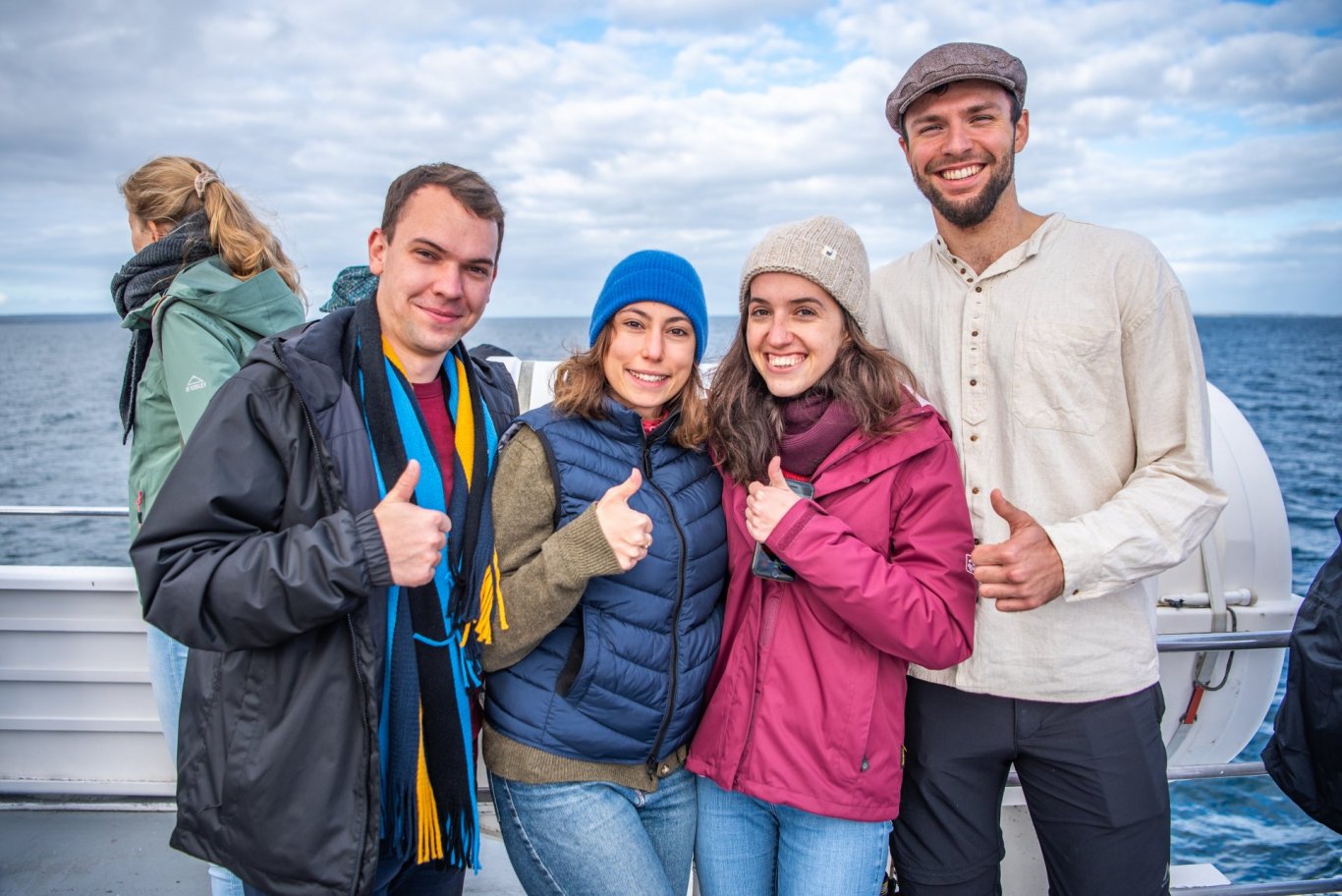 Plotting, planning, and packing for the adventure is half the fun.
With daily departures from Rosaveel port, only 25 miles from Galway, and seasonal departures from Galway City, there's so much history, culture, and wilderness to discover, why not treat your loved ones to a trip they won't forget?
We are waiting to welcome you on board!